Sewer Snaking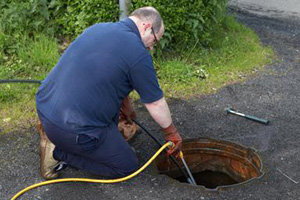 A sewer drain snake is used to clear a main line stoppage. It involves pushing a cable into the sewer pipe via a machine which can feel the blockage and then proceed to pull the blockage out if at all possible. This process can be slow because you need to work the crank slowly as you go along and allow the blockage to catch onto the coiled metal wire from the equipment.
Many times, a tree branch or root is the cause of this problem. If there is a good amount of dirt, grass or mud this could mean that you have a broken sewer line and will need to have it replaced.
Click Here to contact us for a FREE Estimate.