If your sewer drain appears to be clogged from some form of buildup, contact Interstate Plumbing Service to assess your drain issue and provide the proper solution to restore your drains to their normal function. We provide drain pipe rehabilitation or drain pipe descaling in Washington DC metro area including, Falls Church, Alexandria, Arlington, Centreville, Fairfax, Chantilly, Clifton, Herndon, Burke, Oakton, Springfield, Great Falls, McLean, Virginia VA.
Drain pipe descaling, can resolve many common sewer drain pipe problems such as Leaking pipes, slow flushing drains, and clogged pipes due to scale buildup. Over the years, flakes from the cast iron can break off into the sewer line. The broken pieces will eventually accumulate and cause a blockage in the line.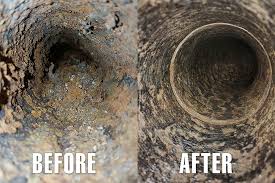 Descaling is the process of removing the build-up of scales caused by aging cast-iron sewer lines and other factors, it is also known as pipe rehabilitation. This process helps prevent future back-ups in the sewer lines. Cast iron sewer pipes can last over 50 years, excluding factors that speed up deterioration, but unless your home is at least 50-60 years old, it's likely that your sewer pipes are in fact in perfectly functional condition and don't actually need replacing.
Pipe Descaling is a fairly new process utilizing a specialized machine with specific attachments attached to a rotating cable.  This method is a lot safer on cast iron pipes that are in poor shape and cannot be cleaned out using a traditional Hydro Jetter. With the descaling machine we can scrape the corrosion off the inner walls of the cast iron pipe, so it can be flushed down the sewer.