Clogged Drains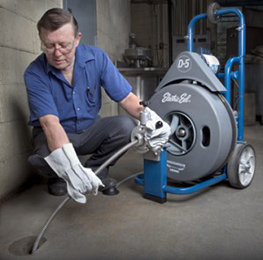 Interstate Plumbing Service offers professional drainage system repairs and hydro-jetting service for clogged drains in your home or office. We provide our drain cleaning service for the Washington DC, Maryland, and all counties in Northern Virginia including residents and businesses in: Fairfax, Va, Centreville, Va, Chantilly Va, Fall Church, Va, Springfield Va, Reston, Va, Herndon, Va, Great Falls, Va, and McLean Virginia. We have been in business for over 20 years, providing quality professional work at reasonable prices.
All other household drains in the home will lead to the main sewer line. If you do not address clogs in these other drains first, it could eventually cause a bigger problem in your main sewer line. This sewer line runs underground from your home to the street. Your main sewer line can become clogged from the debris those other drains spill into it. If this line clogs, the other drains in your home will begin to back up also.
Click Here to contact us for a FREE Estimate.